Important Information

Contact Us

About Us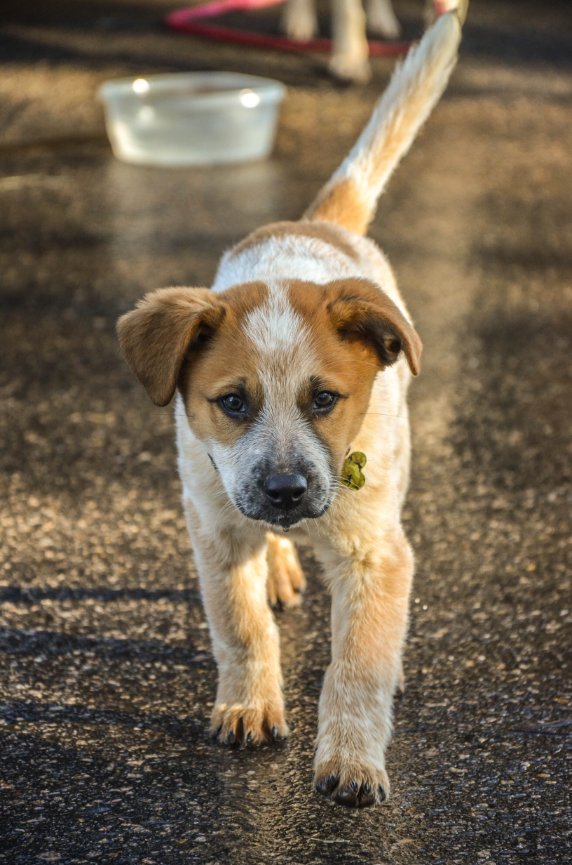 When I established Landon Farm 2013, I had to make some decisions on how I wanted to operate. With 20 years of experience teaching well over 100 courses a week. I had seen what worked well and what didn't. In my experience putting 20 horses and riders in a single class with a trainer and a couple of helpers was not producing the kind of results that I knew I was capable of. This is why we start off our new riders in private or semi-private lessons and keep our group lessons to no more than 5 in intermediate or 7 in advance classes. This allows for time to see what is working and what needs direction and spend the time that is needed with each rider to produce the best results. Landon Farm is not a factory setting with a revolving door of people. You will always recognize a new face because this is a close-knit barn family.

I am very dedicated to quality control. There will not be multiple assistants for teaching lessons. There will not be anyone that cares more about the success of your horse and rider than the person who owns this farm. I am personally invested in your success and your horse goals and experiences. Everyone at Landon Farm has access to the head trainer that has proven success with all levels of riders.

Beyond the saddle time, I encourage my riders to be a part of the process on the ground. Riders are expected to work together and mentor the new/green riders regardless of age. A true horseman/horsewoman takes pride in learning all aspects of horse care. I foster and facilitate an environment where all riders can grow and learn these skills.

I am proud to say that our farm creates relationships that run far deeper than riding horses.

Sincerely,

Kathryn


About Kathryn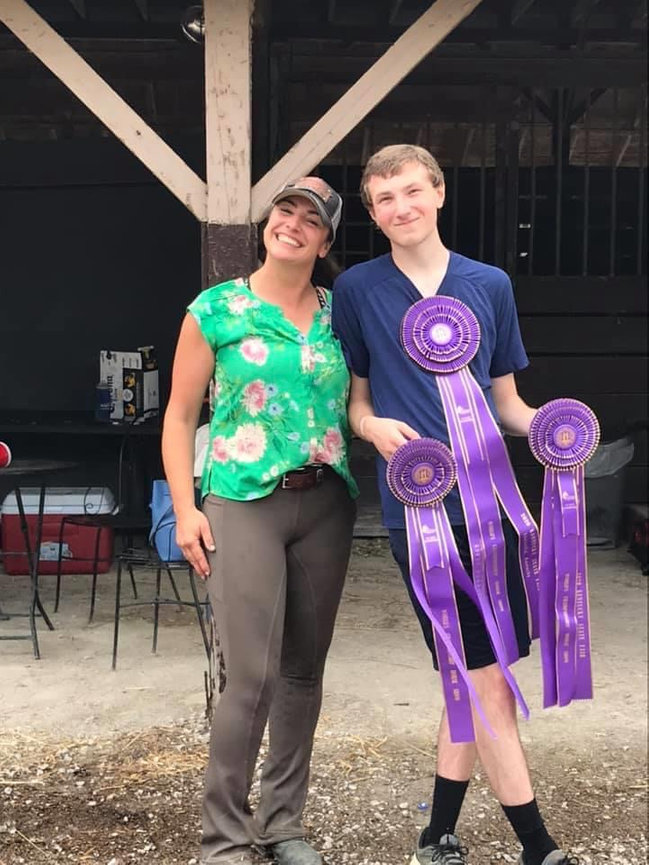 Kathryn Rodosky Taylor has been a saddleseat riding instructor for 20+ years. She has her bachelor's degree from the University of Louisville in Sport Administration and a minor in Communications. Her background includes Worlds and National Champions, and training in performance, equitation, academy, and pleasure riders.

As a child, this sport did not come naturally to her. Perseverance, hard work, commitment, and time developed her skills as a rider--the same skills that would ultimately help her in teaching others to ride.


Before moving to North Carolina in 2008, she was the head instructor at a large facility in Louisville, Kentucky where she taught over 100 lessons a week, trained horses for specific divisions, and created innovative clinics and camps.

Her road has been fostered and matured with the assistance of many other great minds in the American Saddlebred industry. Although Landon Farm opened its doors in 2013, her background and education is a lifetime in the making.


Parents Guide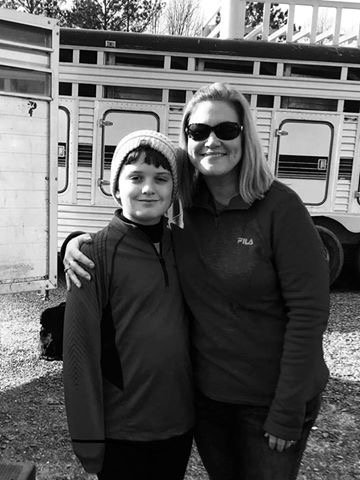 Welcome to the wonderful world of riding horses! You are embarking on a brand new adventure that we hope that you will love. Throughout this adventure there are going to ba million questions that run through your brain; diagonals, leads, left leg right hand etc., you will be sitting there as though you are on another planet and listening to a foreign language!!

Have no fear this short easy to understand guide will make you feel like you have been doing this all your life.

To start with you have made the biggest step and have signed up for a lesson at the facility that is a clean, safe and educational environment. Step one is complete.

Step Two:

The first riding lesson. Your son/daughter or even you will be chomping at the bit to get to the barn, but as soon as they arrive at the stable you will most likely see a small flash of nerves and fear mixed in with sheer excitement. Don't worry this is totally normal. This is where you come in as a parent-your rider will need a little encouragement and positive motivation to not let their fear take over.

Once you get into the barn there will be release and information for you to sign. A helper will help your child put the tack on the horse and lead them to the arena.

• Halter-set of straps placed around a horse's head so that the horse can be led or tied

• Lesson Horse-Horses that teach your child to ride.

• Lead-To have a horse on a rope following

While your rider is preparing to ride you will most likely be stand-in got the side watching. Please feel free at this point to take pictures (no flash). It is important to have this moment captured. The instructor will go over the grooming tools and their proper use, and then gather all the other tack in order to have the horse ready to ride.

• Tack Room-Large room where all the things to ride the horse are located

• Saddle-A seat fastened on the back of a horse for riding

• Bridle-The headgear used to control a horse, consisting of buckled straps to which a bit and reins are attached.

• Bit-Metal device that goes into the horse's mouth to control the horse when mounted

• Pad-Cloth or gel square that goes under the saddle to prevent sores and provide comfort for the horse

Step Three

Your rider has successfully learned to assist on how to put everything on their horse and are now off to the arena to mount. From here the instructor will teach them how to check their equipment prior and then

how to safely mount.

• Mount-To get on the horse

• Mounting block-Study set of steps to get on the horse

• Leg up-When the rider received a boost from the instructor by using leverage and jumping

Step Four:

The end of the lesson will come much quicker for your rider than you. For you, it will feel like 4 hours of sweating and nervousness. The instructor will then teach your rider how to dismount and safely lead their horseback to their stall to remove the tack and cool their horse down.

It is very important that your rider take part in helping as much as they can. This will make them more comfortable around the horses and will also increase their confidence in themselves.

Shows and Camps:

There are no refunds. Hauling, stalls, entries, employees, shavings and many other factors are used to price a show. The rider will not be entered without full payment for the show. No refund will be given.

Attire:

Riding like other sports has a "uniform". This is not for appearance or fashion but for the safety of the rider.

• No baggy shirts.

• form fitting shirts tucked in.

• Boots. It is recommended that riders invest in jod boots.

• Jod or Breeches. You will need to purchase boot cut jod for riding (no blingy jeans/those damage saddles)

• Helmet.

• No jewelry such as dangly earrings or necklaces.

• Gloves are recommended to save wear and tear on your hands.

Questions:

Have a question for Kathryn such as buying or leasing a horse, rider development or showing? Please email Kathryn and schedule a meeting. She would love to go over the different avenues, commitments, and expenses. This is NOT a conversation that can be had in between or during lessons. You deserve my undivided attention when discussing these matters.


Lesson Pricing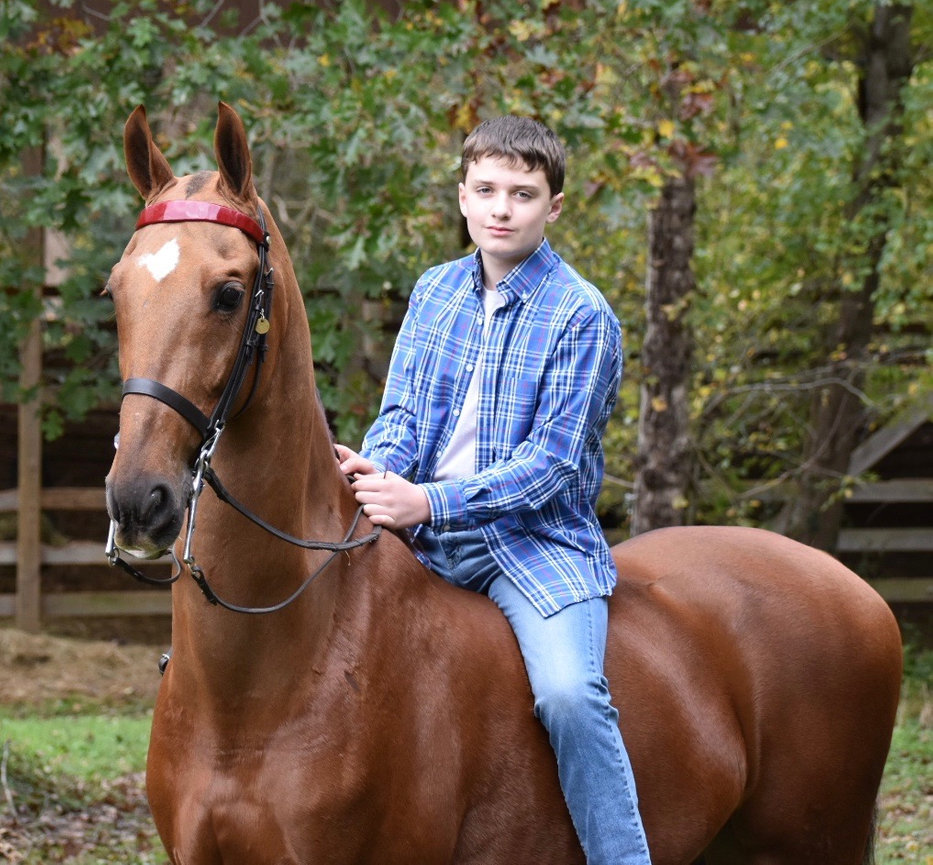 Landon Farm is happy to provide a safe, encouraging and educational lesson program. We work with riders who have never been on a horse all the way to those riding at the World level.

• Lessons are important to build a rider's self-confidence.

• Riders at Landon Farm will have the opportunity to learn to groom, saddle, bridle, and care for their lesson horse; take part in camps, horse shows and much more!

• As riders progress, they will be encouraged to join the Landon Farm Team at horse shows. There are several horse shows that our riders attend based on their level and experience. This is something that we will discuss with you and your riders as time goes on.

Lesson Packages

Basic Package:

2 lessons a week - $320/month

Saddle Time Offer:

3 lessons per week - $375/month Regular price $480, a savings of $105!

All in the Family: Immediate family only.

2 lessons per week per month per family member - $440/month Regular price $640, a savings of $200!

All Package pricing is discounted based on prepaying by the 5th of each month via check, cash, Venmo, or Paypal. Late payments are subject to a $75 late charge.

Show Team Packages

These are our all-inclusive packages that provide for lessons and show fees. Show fees include stall, shavings, prep of your horse for show, equipment, and cleaning of equipment, washing and clipping of horse, entry fees, office fees, horse transportation, insurance, and much more! These packages require a 12-month contract (For example you start in March you will be under contract until March of the following year) and must be paid by the 5th of each month. Late payments are subject to a $75 late charge. If you own or lease a horse there will be a different price structure for the Academy and Elite Academy team offerings.

Tournament Team:

2 lessons per week and 3 fun/open shows per year: $400/month.

Academy Team:

2 lessons per week and 3 in-state academy shows and one fun/open show per year: $525/month.

Elite Academy Team:

3 lessons per week and 3 out-of-state academy shows, 2 in-state academy shows:$625/month. Academy Nationals is not included in the "out of state" horse shows and will be billed to the rider.

Terms and conditions apply, click here to contact us and learn more.

If you cancel or "no-show" to two lessons within 30 days, you will forfeit your lesson time and will be removed from the schedule. You will have to contact Kathryn in order to obtain a new lesson time.

Any billing questions should be directed to Kelly Trexler at landonfarm@yahoo.com

Riding is a great sport to promote independence and self-confidence, because of this we encourage riders who are old enough, to come early enough to assist in getting their horse ready for the lesson. Additionally, we ask that all riders arrive at least 15 minutes prior to the start of their lesson in order to assure that they have enough time to get ready to ride and lessons start on time. If running late please email landonfarm@yahoo.com and let us know.

NOTE: If a lesson starts at 1 pm a rider should be on the horse at 1 pm and on the rail stretching. Lessons are booked in open time slots and we cannot go over the allotted time based on the schedule. If you cancel or "no-show" to two lessons within 30 days, you will forfeit your lesson time and will be removed from the schedule. You will have to contact Kathryn in order to obtain a new lesson time.

CANCELLATION POLICY:

If a rider is unable to make the lesson we ask for 24 hours notice or the lesson will be charged. Weather, illness, family emergency are out of everyone's control for that reason we understand that 24-hour notice might not be feasible. Please use your judgment. All cancellations must be made by email to landonfarm@yahoo.com. Do not text Kathryn for cancellations.


Other Services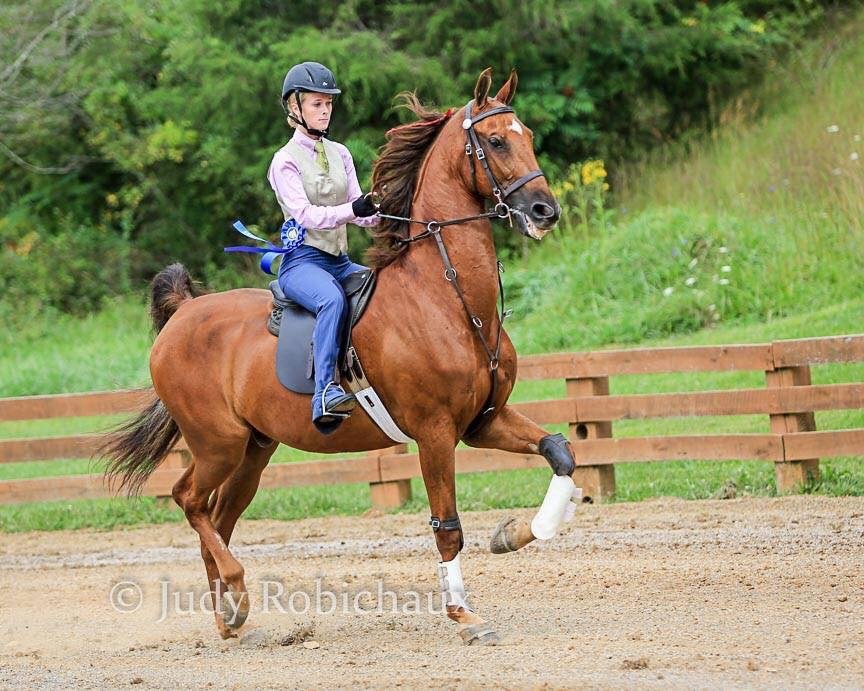 Landon Farm offers many services in addition to the lesson program. Please contact us if you have any question about the following services:
Board
Landon Farm is pleased to be able to offer you and your horse the highest quality care, whether they are living the pasture or in a stall.
Board is due each month by the 5th. After the 5th of the month, there will be a $50 late fee added to the following month's bill. We are happy to take check or cash. If you are interested in paying via PayPal there will be 3% charge will be added in order to cover the service fee.
Full Training Board
$1000 full training board. The horse will be trained 5 to 6 days per week and turned out daily. Horse owners will have UNLIMITED LESSONS that are scheduled by Kathryn. Most horse owners ride at least 4 times a week. Please remember that these lessons are included in the Full Training Board price. Besides UNLIMTED INSTRUCTION AND TRAINING, Full Training Board Includes: Stall cleaning daily, clean buckets, water, grain twice daily, hay three times daily, well-bedded stall safe from the elements, blanket/halter removal when inside. Monitoring for injury or illness.
Lesson Board
$550 lesson board. Horses board will be at a reduced rate since Kathryn will be teaching on them. Horse lessors will have 4 lessons per month included, but must be used within that month (no rollover lessons) (Includes: Stall cleaning daily, clean buckets, water grain twice daily, hay three times daily, well-bedded stall safe from the elements, blanket/halter removal when inside. Monitoring for injury or illness)
Pasture Board
$400 a month on non-teaching horses and $300 per month on teaching horses (includes: Pasture grazing, hay three times per day or round bale of hay available, grain twice per day, access to clean water, monitoring for injury or illness)
Any Supplements that need to be administered via oral, muscular etc. will be charged a nominal fee.
Leasing
We offer full and half lease options on several horses that show in performance or academy. To inquire about these options, email Kathryn to discuss current horses and options.
Clinics & Consulting
We enjoy the challenge of teaching new people on their horses (or school horses) at their barns. Kathryn is available to teach a multi-day clinic or an hourly session. With fresh eyes, she can make suggestions that can be implemented immediately and ideas for addressing long term changes.
Horses for Sale at all Price Points
Reliable, sound and fun school/ show horses are always available at all price points.
Select horses can be sent to Landon Farm on consignment.
(A 10% commission is charged if a horse is purchased or sold for a client.)

At this time we continue to strive at being a strong, instruction-based facility. We do not offer trail riding, birthday parties, one-time leisure experiences or horse rental.


Testimonials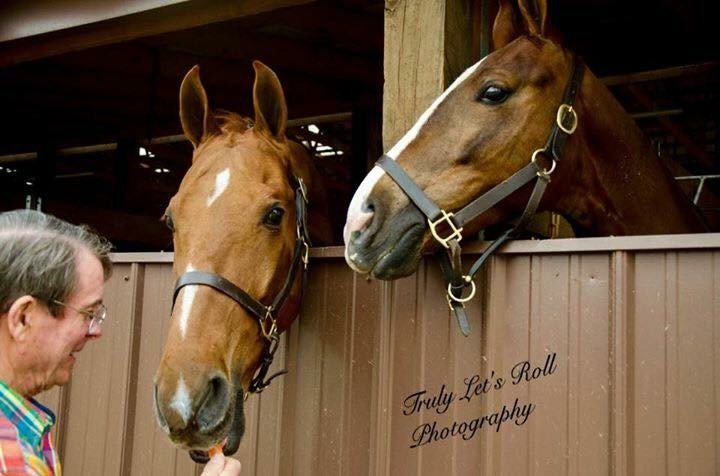 "Kathryn literally rocked my world! I cannot imagine what my life would be without Kathryn and the horses!"
- Sharon Wilson
"Kathryn is one of the hardest working instructors in the horse industry today. I have seen her put some awesome riders in the show ring at the National Academy championship Finals over the past 5 yrs and always have good things to say about their rides. Very uplifting to see in this business!"
- Joyce Webster
"I looked all over the area for riding lessons for my Grandson, Brayden 3 years ago. Then I found Kathryn owner of Landon Farms, She is a fantastic riding instructor, but so much more! Kathryn is engaging with her students, giving lots of individualized attention and instruction. She understands what to focus on and what to ignore, and while demanding, gives lots of praise and encouragement. We have really seen the positive results from Kathryn's teaching and interaction with Brayden, who has gained so much not only in riding skills, but with insight, confidence and a sense of accomplishment and belonging that has been so gratifying. We are very grateful that we found Kathryn! Her special approach has been so beneficial to my Grandson. It has been an extremely positive and rewarding relationship we value very much."
-Shannon Smith
"My daughter started riding at the end of 2015. Kathryn has taught her how to ride, work ethic, responsibility, teamwork, and safety. I'm very proud of what she has accomplished. Thank you Landon Farm"
-Cherry Williams
"In looking for a farm that could teach my daughter, I was looking for more than a "place for her to ride". I wanted to find a community that she could be a part of. A community that valued the horses, the riders, and the responsibility. That is exactly what I found at Landon Farms. Kathyrn puts a value on being a responsible equestrian. If you are wanting an environment that will teach sound equestrian skills along with learning how to be responsible for the animals, peers, the barn and learning then Landon Farm is a perfect match. I have watched not only her skills grow but also her sense of responsibility, self-confidence, and determination to be the best that she can be. Life skills that will last."
-Josh Weaver
"I started riding at Landon Farm around 6 years ago, I had previously ridden at another barn which was not the right fit and was looking for somewhere that felt like home. Kathryn and the barn family were more than welcoming to me, allowing me to not only take lessons but be apart of everything. I had shown twice in academy and showed under the Landon Farm banner in just under 6 months. Kathryn's instruction was super and the horses were kind and smart in guiding me around the arena. Over the next 2 years, Kathryn guided me to numerous top placing ribbons, as well as numerous top place ribbons at The National Academy Championship Horse Show. During both my academy and performance career, I was given multiple opportunities to lease and show horses in multiple divisions. Kathryn's instruction on every horse I leased as well as our lesson horses helped me to become a very versatile rider, who was prepared for any horse. Kathryn instructed me through a performance career in multiple divisions and the opportunity to show at The World Championship Horse Show. Over a year and a half ago I purchased a rescue pony who was feral and sickly. With the lessons I had learned from Kathryn both on horseback and on the ground, I have taught my pony to ride and perform tricks. I am beyond grateful for all of Landon Farm and more importantly Kathryn, who has given me so many wonderful opportunities and taught me many life lessons. The horses and people of Landon Farm will always be a part of my life."

-Mary Trexler
"Landon Farm is an incredibly special place for our family. The course of our daughter's life has been forever changed because of her relationship with Kathryn and her time at Landon Farm. The learning that perfection is a noble pursuit even if it is forever unattainable and to accept, even embrace, the idea that THE PROCESS is the heart of the journey have become deeply instilled character traits for our daughter. Kathryn has encouraged her to always pursue personal growth and celebrated with her life's amazing accomplishments. Our daughter, recently accepted into NCSU School of Veterinary Science, will forever have Kathryn by her side as one of her most cherished mentors and Landon Farm will always be home."
-Steve Scott